Our Life Skills Program is developed to meet the individual needs of persons we serve by strengthening daily life skills and potentials .Individualized care  for persons needing a high level of personal care, medical, and/or behavioral support is provided in a caring, dignified manner. Flinthills Services, Inc. believes that persons with disabilities can be successful, loyal and contributing members of the community.
Our goal is for the people we serve to become more self-sufficient and to increase participation in a variety of life experiences. Participation in one of our Life Skills Program  empowers each individual to achieve their maximum potentials.
Our Life Skills Program:
Is based on the needs and desires of each individual.
Provides opportunities for social and volunteer involvement.
Offers training and assistance in daily life skills.
Teaches vocational skills.
Offers behavioral support and coping skills.
Offers participation in community integrated activities.
Provides skills to develop social skills.
Community Living services assist adults to achieve independent living in their community. Staff working in our Community Living Program provide support in all daily activities, ensure individual rights are observed, and  teach independence through community inclusion. Our services support the desires, needs, goals, strengths as well as the health and safety of the persons we serve.
Community Living supports and services are provided in  individual homes in accordance with needs identified in the PCSP (Person Centered Support Plan). Supports range from 1 hour to 24 hours /day depending on the identified need. We currently provide supports to over 15 homes/apartments in the Butler County area ranging from single person dwellings to multi-individual settings each of whom have their own private bedrooms.  A  manager is on-call 24 hours/day to respond to emergency situations.
In 2008, Flinthills Services, Inc. built three, new multi-individual homes in the City of El Dorado. Each home provides  state-of-the-art living for the residents,is ADA compliant, and has a FEMA approved storm shelter.
In May 2012, we moved into our newest multi-individual home in El Dorado. The house serves 8 clients, is ADA compliant, and features a built- in storm shelter.
We offer multiple work opportunities to our clients in our Production Program, designed  to strengthen individual employment skills and to offer an opportunity for clients to make their own money. This gives persons served a sense of accomplishment and independence.  Flinthills Services, Inc. believes that persons with intellectual developmental and physical disabilities can be successful, loyal and contributing members of our community.
Our goal is for the people we serve to become more self-sufficient and contributing members of our community. Participation in our unique Production Program empowers each individual to achieve their maximum potential.
Our Production Program:
Teaches valuable work readiness skills.
Offers opportunities for individuals to earn and manage income.
Prepares individuals for competitive employment in the community.
Provides opportunities for social and volunteer involvement.
Is based on the needs and desires of each individual.
Targeted Case Management (TCM) assists the person and their support network to identify, select, obtain, coordinate, and use both paid and natural supports that may be available to enhance the person's capabilities and preferences as outlined in the Person-Centered Support Plan (PCSP).
TCM services provide the following supports:
Development of support planning that will meet your preferred lifestyle.
Assists individuals in securing a lifestyle of maximum independence and successful inclusion in the community by providing support and advocacy.
Assessment of each individual's personal strengths and potentials through interview, monitoring and follow-up of PCSP.
Assist with funding and record keeping to ensure continuation of natural supports, local resources, and HCBS waiver services.
Oversees all programs of involvement including residential, day, employment and self-direction services to ensure safety and maximum benefits.
Targeted Case Management is available to any

child

or

adult

eligible for I/DD services.
Transportation services are available for persons served in our Day and/or Community Living programs. We have a fleet of over 20 vehicles including wheelchair-accessible vans, providing our clients safe transportation to all community activities, medical appointments and events. This service is only partially funded through federal or state funding, therefore a reasonable fee is charged to the client for this service.
Flinthills Services, Inc. has a Registered Nurse on staff and  two full-time Medical Coordinators  to provide health maintenance and medical intervention on an ongoing basis. They are available to clients for emergency situations such as diabetic reactions, seizures, lacerations, etc.
Our nursing  staff are involved with medication management/reconciliation, implementing physician orders and advocating medical needs. In addition, they furnish health education information, maintain medical records/medical histories, and administer medications and routine injections. Our Medical Coordinators  transport clients to medical appointments, advocates for  medical needs, and ensure physician's orders are followed appropriately.
Butler Blazers Special Olympics is dedicated to empowering individuals with intellectual disabilities to become physically fit, productive and respected members of society through sports competitions, health and nutrition programs and leadership development. Offering year-round initiatives to children and adults with intellectual disabilities, Special Olympics is a platform for acceptance and inclusion as well as one of the largest advocates for healthy lifestyles in the state – regardless of race, religion, ethnicity or cultural differences.
Participation in sports enables challenges and opportunities to be introduced to the participants teaching them teamwork, decision making, leadership, goal-setting, perseverance, commitment and sportsmanship, while developing self-confidence, self-esteem, character and integrity.
There is something about the thrill of competition. The sweat, the hustle, the effort that comes with doing your best. The joy of victory, the challenge of falling behind, the support of a team and the encouragement of a cheering crowd.
Our volunteer coaches dedicate hundreds of hours to make these opportunities to our amazing Butler Blazer Special Olympians.
For more information, please contact Sarah Vaughan at butlerblazers@outlook.com.
We offer planned activities geared towards those teens, ages 11-21 and young adults, ages 22-40 with developmental disabilities in Butler County, giving them an opportunity to have dinner together and engage in social and recreational activities with their friends. Our volunteers and staff take great pride in the events that they get to share with your loved one. Questions? Please contact us for more information at 316-321-7081, or by emailing us here.
All businesses have occasion to discard confidential data such as customer lists, sales, drafts of bids, etc. that would interest any competitor.  Every business is also responsible for employee records that must be kept confidential. Any establishment that discards private and proprietary data without the benefit of destruction is open to the potential risk of criminal and civil prosecution, as well as the costly loss of business.
Why choose Flinthills Services, Inc. for your confidential document destruction?
Because we offer:
Safe, secure transportation of your documents
We pick up a box or tons of documents one time, weekly or monthly
You can drop off your documents, if you choose
We are bonded and insured
We are affordable ($0.25 per pound)
We are friendly and service-minded
What Can We Shred?
Financial Records
Payroll Records
Patient Records
Legal Records
Personnel Files
Credit Card Reports
Tax Information
Customer Lists
Confidential Correspondence
What our clients say about us…
I like working in the Production area, and talking with staff and my friends. Flinthills has helped me work on my goals of sorting and shredding paper, working on balloons, and becoming more independent.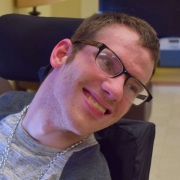 I really enjoy making bracelets and going to Advocacy Day at the capitol. Staff have taught me to be more independent with everyday tasks, how to be more patient, and community better with others.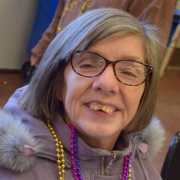 I enjoy living at my house because I live with friends, go shopping and to the library. My staff are really nice and help me with things I want to learn.